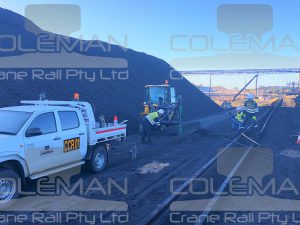 COLEMAN Crane Rail Pty Ltd is owned and operated by Craig and Vivienne Coleman. Located in the Isaac Region, Central Queensland their office in St Lawrence (South of Mackay & North of Rockhampton) is on the doorstep to the coal industry in Qld. Originally starting their business under Therm A Rail / C & V Coleman Constructions in 1996, which later changed to COLEMAN Rail & Track Solutions Pty Ltd, then growing to Coleman Crane Rail Pty Ltd in 2007.
Having worked in the industry since 1994, Coleman Crane Rail Pty Ltd offers solid reliable experience in rail construction and crane rail construction, for all industry types. Specialising specifically in crane rail, we can provide full consultation and mobilise teams to assist you in your crane rail installation, emergency repairs, planned maintenance, or to complete an entire crane rail upgrade Australia wide
Craig has extensive experience in the welding (Aluminothermic/Thermit) processes for any size rail including crane rail, main line rail and tram rail. Craig and our team are fully qualified in the procedure. Thermit welding provides a quality result and is a reliable joint when completed correctly by professionals in the industry. We can weld in many locations including onshore or offshore, above or below ground.
Completing various crane rail construction contracts across Australia and abroad to the South Pacific. We are a capable family-owned company that prides itself with professional service. We work closely with our suppliers and provide quality products to ensure the best results for our clients. Our work is completed with a high industry standard in safety with No Lost time Injuries, meaning your work site is our priority.
We look forward to working with you to assist you in your next Crane Rail project. Contact us for more information.